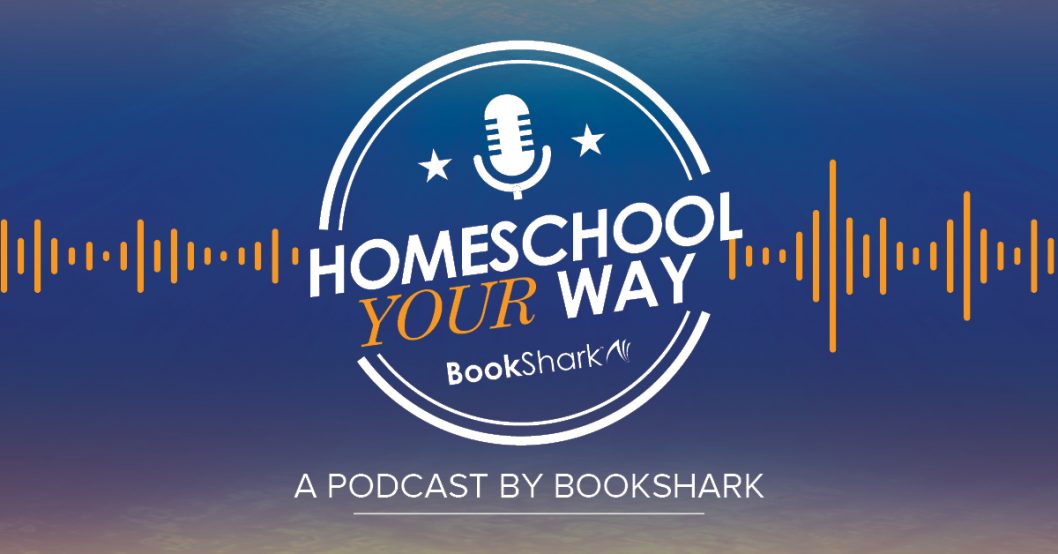 Homeschool Your Way: A Podcast by BookShark
With the right tools and the right mindset, homeschooling is nothing to be intimidated about! We'll admit that homeschooling isn't for everyone. But if you want to homeschool — or really need to homeschool—you can do it! And best of all, you can do it your own way!
Wouldn't you love to have experienced homeschoolers, cheering you along with insider secrets? Yes? Then you'll love this podcast! The hosts know homeschooling is not one-size-fits-all. So in each episode, they'll bring you the coolest methods and the most fascinating guests to help you find your way—the best way—to homeschool.

LATEST EPISODES
EPISODE 155| Chestnuts roasting by the fire, stringing popcorn on thread, Santa pictures with matching pj's, and caroling are just a few of the things that come to mind when people think of holiday traditions. Traditions can be an important part of any time of our lives but truthfully most of us have that one, if not more, tradition that brings that warm fuzzy feeling to our hearts and minds. Holidays are often when those traditions occur because family gathers but with that comes stress and the feeling that we have to do more or be more.  In today's podcast […]

EPISODE 154| Part two of THE ADVENTURE OF HOMESCHOOLOING PRE-K-12TH: PART ONE. Why do you homeschool? There are any number of answers to that question and sometimes homeschooling comes before or after a bout with public school and at times homeschooling co-exists with public schooling. Does the idea of homeschooling feel daunting? Listen as Janna and her guest Katie Wolfe discuss Katie's journey of homeschooling her son from pre-k to 12th grade and how she learned that just because you homeschool does not mean you do it all yourself!  As part of being our guest Katie is offering $5 off […]

EPISODE 153| Why do you homeschool? There are any number of answers to that question and sometimes homeschooling comes before or after a bout with public school and at times homeschooling co-exists with public schooling. Does the idea of homeschooling feel daunting? Listen as Janna and her guest Katie Wolfe discuss Katie's journey of homeschooling her son from pre-k to 12th grade and how she learned that just because you homeschool does not mean you do it all yourself!  As part of being our guest Katie is offering $5 off on her site https://thewolfepackden.com/. Use code TWP5BSK. ABOUT OUR GUEST| […]

EPISODE 152 A lazy morning with grateful children who happily apply themselves to their studies while you enjoy having them all under one roof.   Sound idyllic? We all want that type of homeschool day but reality is much different. That's not to say your idyllic homeschool days won't happen but how do you cope with the days in between? Homeschooling is demanding, it's not some picture-perfect thing that magically happens, it takes hard work. Join Janna and her guest, Gretchen from Demme Learning as they discuss 'October flats' as something that can happen anytime in your homeschool journey. ABOUT OUR […]

EPISODE 151| Working and Homeschool?! Does it seem like an impossible proposition for you and your family? It might not be as crazy as it sounds. In today's podcast, Janna and her guest, Angela D'Antonio discuss how Angela has homeschooled her two kids for the past decade while she and her husband work full time. She shares her list of the benefits of homeschooling and how they make it all work. Find some ideas to help you as you navigate your homeschool journey. ABOUT OUR GUEST| Angela D'Antonio has been homeschooling her two daughters for over a decade, beginning with […]